MSI- VR One PC Backpack (with I7 and GTX 1070)
Goodbye real life, Welcome fantasy. Another good news to the PC MASTER RACE user. MSI show their new VR One prototype in Computex in Taiwan. VR One PC backpack will change the entire future Virtual reality gaming or maybe the PC gaming industry. The backpack will give the full experience in VR gaming without thinking the wires around the floor.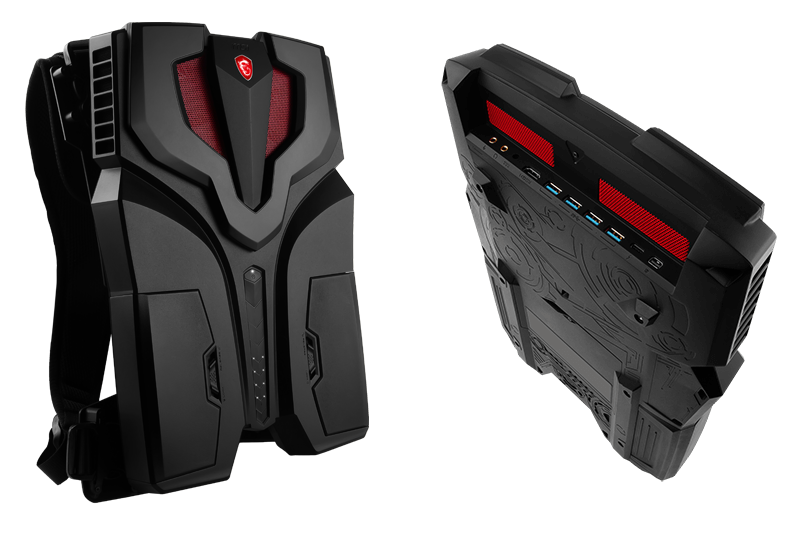 VR One is the thinnest and lightest weighing 3.58 kg compared to Acer's Predator 21 X (Ultimate Gaming Laptop) which is double the weight.
VR One are compatible with HTC vive and Oculus Rift. Two of the most well-known brand in VR. And in the near future THE VOID will be joining the team. Giving the full experience you will ever have in Virtual Reality Gaming.
VR One will not be cheap gaming PC as you think. The backpack has high-end specs inside of it. Intel Core I7 cpu which give this bad boy a powerful processor. 8 GB of DDR4 ram. Nvidia GTX 1070 which is capable running the games in 90 fps( Now that is badass ). SSD hard drive(MSI did not reveal the capacity of the SSD). The backpack also have two 9cm fan, 9 heat pipes and a bunch of vents for smooth and quiet gaming experience. MSI said "it runs a little quit in 41dBA is full speed". Smoother than your laptop in short.
MSI did not mention any information about the type of battery they are using. But it can run 1.5 hours even its overclock CPU is running at full speed. Two battery pack snap in the backpack. The device can Hot-swapped while running. So no worries when the battery is 0% you can just swap another battery without turning it off.
MSI VR One will be available by the end of this year. Maybe add this in your wish list..
What can you say about the MSI VR One? leave us a comment. peace!